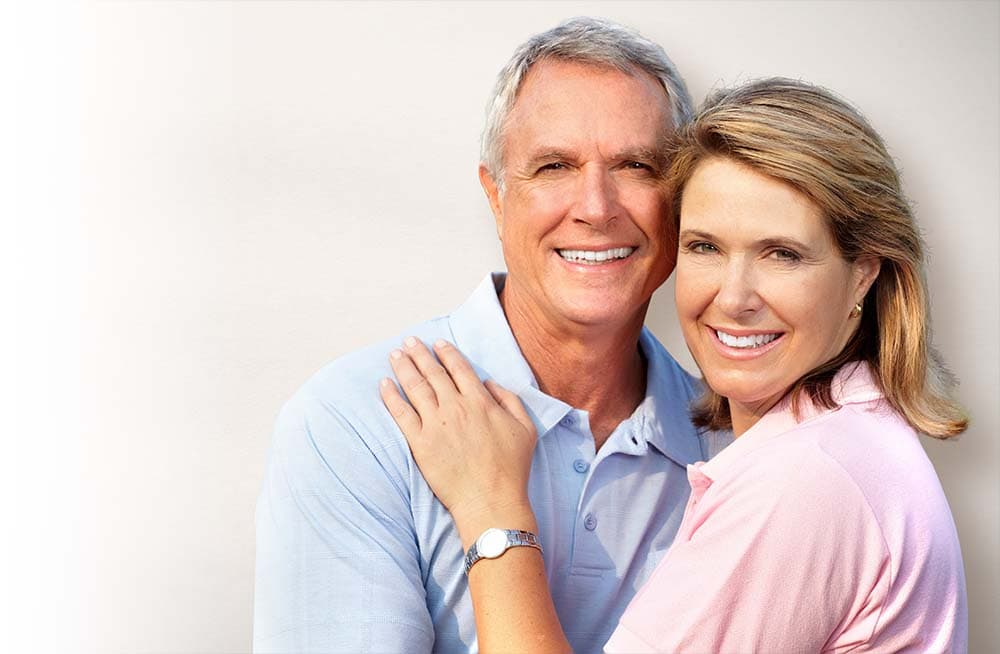 Lowest Price Guaranteed
We beat our competitors' prices by over 40%.
FAQ About Dental Implants
1. What are dental implants?
Dental implants are titanium screws that are permanently placed into the jawbone. A permanent zirconia crown or bridge is then attached to the implant(s). Dental implants look, feel, and perform like real teeth, and have the potential to last a lifetime.
2. How long do dental implants last?
If dental implants are placed properly by an experienced oral surgeon and the patient properly cares for the implants, dental implants can last a lifetime. This is why many patients choose dental implants over other solutions, like dentures, which will need to be replaced over time.
3. Do I need to have a single dental implant for each missing tooth?
No. While single dental implants are a great solution for patients missing only one or two teeth, we generally don't recommend them when patients have multiple missing or damaged teeth as each single dental implant costs $3,000-$6,000 and the total cost of treatment increases quickly. In these cases, we might recommend a full-arch replacement. This procedure will replace an entire row of teeth while only requiring 4 implants to be placed in your jawbone.
4. How do dental implants compare to dentures?
While dentures are less expensive than dental implants, they suffer several drawbacks. When using dentures, patients will have weak bite strength, may struggle with normal speech, and will have to use adhesives every day to keep dentures in place. Dentures also need to be cleaned daily, look unnatural, and will need to be replaced every few years.
Dentures also don't help improve the oral health of your mouth. Dental implants will stop bone loss and restore your oral health. We rarely recommend dentures to patients given their shortcomings, and we offer many solutions to help patients from a variety of financial backgrounds to afford dental implants.
5. What is the difference between individual dental implant vs. all on four implant?
An individual dental implant is a single titanium screw with a single-tooth crown. It's a procedure that is often used to replace a single tooth, especially if there are no other problems with oral health. All-on-4 (also known as all on four, full arch replacement, and teeth in a day) refers to the procedure where an entire row of teeth is replaced in one efficient procedure using only 4 screws (implants).
6. What is a full arch dental implant?
A full arch dental implant (often called all-on-four or teeth-in-a-day) is a dental implant procedure that replaces an entire row of teeth. Instead of needing a dental implant for each tooth, only four implants are needed to support a bridge of new teeth.
7. What is all on 4 dental implant?
An all-on-four dental implant (sometimes called a full arch replacement or teeth-in-a-day) is a procedure to replace a single row of teeth, and sometimes both rows of teeth. The procedure only requires four dental implants to anchor the bridge of new teeth.
8. What is teeth-in-a-day?
Teeth-in-a-day is the same procedure as a full arch replacement and all-on-four dental implant. This term is often used because the patients that receive this procedure will be in and out of the office in a single day with a brand-new set of teeth.
7. How many all on 4 procedures has America's First performed?
Our oral surgeons have performed more than 5,000 successful full-arch replacements. We are one of the most experienced offices for full arch replacements. We leverage that experience in order to providing efficient, cost-effective and successful results for our patients. This allows us to keep costs low without compromising on the quality of the procedure or the materials.
8. What costs can I expect with all on 4 replacements aside from the up-front fee?
Our $14,950 price for a full arch replacement is all-inclusive. Other dental offices often bill per session (e.g., advertise a price only for the cost of the surgery but not the final teeth) or per appointment, which makes it difficult to accurately budget for the total cost. Our up-front pricing includes all possible costs, including:
Initial consultations
The surgery to place dental implants
The temporary and permanent bridges
All follow-up appointments
Any other appointment, session, or adjustments that are needed.
A small proportion of patients might have very thin jawbone and will need bone-grafting. If this is needed, the extra costs will be communicated during the initial consultation so that our patients can rest assured they won't face hidden fees or surprise costs.
9. How much will insurance cover for dental implants?
Unfortunately, insurance rarely covers the cost of dental implants. This procedure is often categorized as "cosmetic," and cosmetic procedures are not generally covered. There are a few exceptions for specific health issues, but the majority of people seeking dental implants pay out pocket. This is why we have worked diligently to offer full arch implants to our patients at the lowest cost possible without sacrificing quality.
10. Will Medicare or Medicaid cover the cost of dental implants?
No, Medicare and Medicaid do not cover the cost of implants.
11. Do you have lending partners to help finance dental implants?
We have partnered with several lending partners to help patients finance their dental implants. Some patients may qualify for interest-free financing or low-interest financing, depending on their credit score.
12. If I have bad credit, can I still finance my dental implants?
Many of our patients have bad credit and are still able to finance their implants. Some of our lending partners are able to lend to clients with low credit scores, while other patients secure private financing, like through their personal bank or a credit union. Regardless of your credit history, our offices will work to make sure you know the best financing options available to you.
13. What materials are used in full arch procedures?
Full arch implants typically require two materials. The part that is placed into your jawbone is made from titanium. Your body won't reject titanium, and it is strong and durable. The bridge (the part people see when you smile) is made from zirconia, a durable material that resists stains and odors. Zirconia looks very natural and will stay white with general oral health habits.
14. Why don't you use acrylic for the all on 4 bridge?
Many dental offices will use acrylic in the bridge instead of zirconia, largely because acrylic is less expensive. Unfortunately, acrylic has significant drawbacks compared to zirconia. Acrylic is more likely to crack and break, stains more easily and looks less natural. Furthermore, acrylic is porous, which means the bridge will develop an odor. For these reasons, we only use zirconia for our bridges.
15. Who is eligible for a full arch replacement?
The vast majority of people who contact us are eligible for a full arch replacement, specifically those with poor oral health. Dental implants help to restore bone loss in the jawbone, so many patients see improvements to their oral health specifically because of receiving dental implants.
16. Will I be put to sleep for the full arch implant procedure?
The procedure to place your dental implants is a surgery, and you will be put under IV sedation for this procedure, so you won't feel any pain or anxiety.
17. How long does a full arch dental implant procedure take?
Most full arch procedures take 1-2 hours to complete. This time can vary depending on what specifically needs to be done for a successful implant. For example, extracting multiple teeth or performing bone grafts will extend the overall length of the procedure. Our oral surgeons will tell you how long of a procedure you should expect.
18. How long does it take to recover and heal from a full arch replacement?
Patients will return home the same day they receive their dental implants. Your gums and jawbones will fully heal after 3 months.
19. Will I be able to return to work the day following my dental implant procedure?
While you'll leave our offices the same day you arrive, we recommend that patients allow for a few days of recovery immediately following the procedure. In general, three to five days is sufficient recovery time to comfortably return to work, though some patients may feel comfortable returning to work more quickly.
20. Are there food restrictions after I receive dental implants?
Immediately following your dental implant surgery, you will be on a liquid diet for two to three days while the swelling in your jaw reduces. Afterwards, patients will transition to a soft-food diet while their temporary bridge is in place. Over time, food restrictions will be lifted, and you can eat most, if not all, of the food you enjoyed before the surgery.
21. How do I take care of dental implants?
For most patients, standard oral hygiene is enough to properly take care of dental implants. There are a few tips you can follow for extra care, including:
Using a soft-bristle toothbrush
Seeing your dentist on a regular basis
Avoid smoking and excessive use of alcohol
Use a Waterpik
Brushing, flossing, and keeping regular dental appointments are the best way to take care of your dental implants.