All-on-four Dental Implants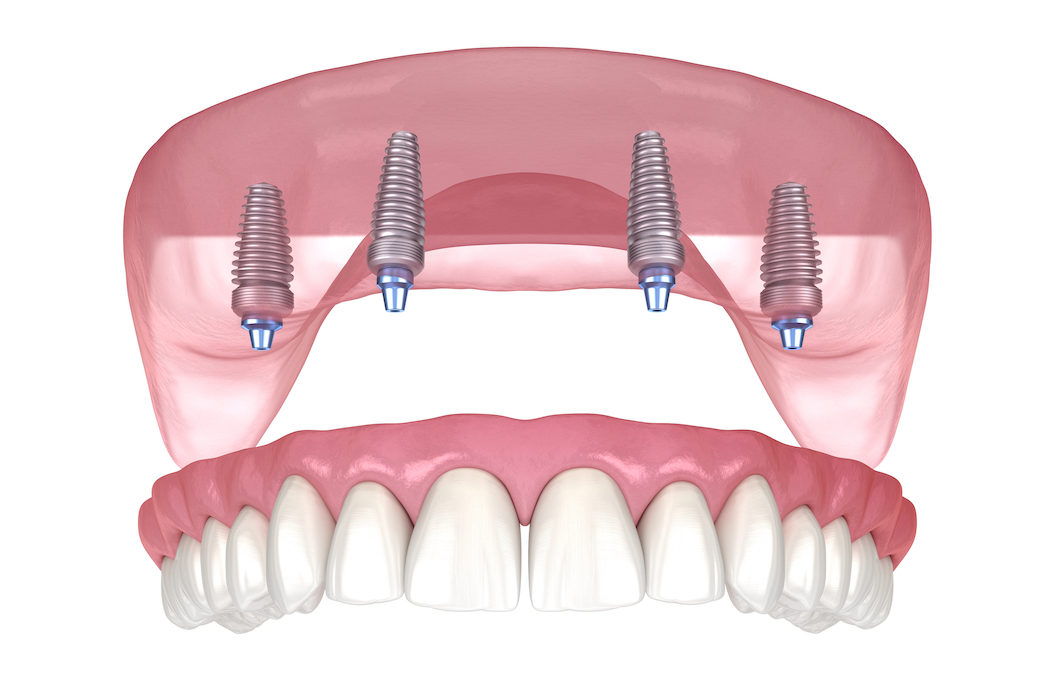 At America's First Dental Implant Center, we specialize in all-on-four dental implants (also known as All-on-4, full arch, full mouth, and teeth in a day), which is a dental implant technique where an entire row of teeth is replaced using 4 dental implants.
We offer it at the lowest price guaranteed price of $14,950/arch.
All-on-4 dental implants are ideal when there are many damaged or missing teeth. 
Jump To:
Schedule Free Consultation
What Are All-on-4 Dental Implants?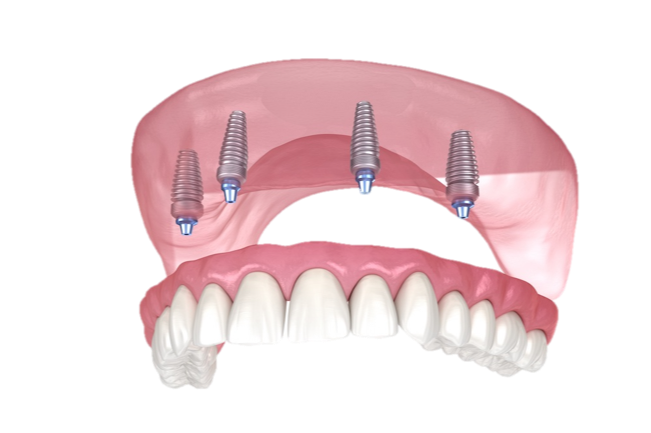 All-on-four dental implants, also known as all-on-4, full arch implants or teeth-in-a-day, are a complete replacement of either the upper row of teeth, bottom row of teeth, or an entire mouth full of teeth. Instead of using one implants per each damaged/missing tooth, only four implants are needed to replace an entire arch of teeth (12-14 teeth). 
We specialize in all-on-4 procedure, having performed over 5,000 all-on-4 procedures. Given our expertise, we are offer to all of our clients:
$14,950/arch all-inclusive all-on-4
Quality Warranty
Lowest price guarantee (see low price guarantee for details)
Call for a Free Consultation
All-on-4 Cost and Pricing
What Is Included in our $14,950 All-on-4 Cost?
Average national pricing for the all-on-4 procedure ranges between $25,000 – $40,000 per arch. At America's First, we are able to offer the procedure at a much-reduced amount of $14,950. 
This is an all-inclusive, upfront cost. That means it covers the entire procedure, from start to finish, without surprise fees or other unexpected costs. It includes:
All appointments and meetings (e.g., Initial consultation, surgery, post-operative checkup)

Any imaging needed (e.g., CT scan, X-ray)

Surgery to extract teeth and place dental implants into jawbone

IV sedation anesthesia

Temporary teeth used during recovery and healing

Custom crafted and fitted permanent zirconia teeth that is made to fit your mouth
If additional costs are required (for example, if you need a bone graft, which is uncommon), you will know your total cost before you make a financial commitment to the procedure. 
All-on-Four Cost vs. Individual Implant Cost
Many patients may be trying to decide if they should pursue an all-on-four procedure, which will replace an entire row of teeth, or if they should focus on replacing individual teeth. This may be a consideration due to cost or an apprehension of removing healthy teeth to make way for an all-on-4 implant.
Individual Implant: $3,000 – $6,000 per tooth (nationally)

All-on-4: $14,950/arch at our office ($25,000 – $40,000 nationally)
Individual dental implants range between $3,000 – $6,000 per tooth and can make sense for some patients who just need to replace a few teeth. However, the cost of individual implants quickly increases as the number of missing teeth increases.
Instead of repeating this process in individual procedures (as in the case of placing multiple individual implants), all-on-4 dental implant carries out these procedures for all teeth in one efficient surgery. 
Remember, all-on-4 dental implants only require 4 implants to be installed an entire row of teeth. For the vast majority of our patients who come to us, it makes far more financial and practical sense to pursue an all-on-4 procedure and return the mouth to its healthy, original function. 
I went in to [America's First] due to bad work from another dentist… the previous work needed to be fixed ASAP. Dr. walked me through how he would fix my implants and made me feel much more at ease. It was easy to work with his office to schedule the procedure. I am so happy I found him and his work is great! Definitely smiling big now =)
– Katelyn R.
Patient from Miami, FL
After several months of going to many dental offices for consults, I finally found America's First Dental Implant Centers, and thank GOD I did… I drove all the way from Naples to Miami for my treatment and it was definitely worth it. I recommend America's First to anyone that needs dental implants. Thank you to the Doctor and team at America's First!
– Kenneth O.
Patient from Naples, FL
Big thank you to the Oral Surgeon doctor and staff at America's First Dental Implant Center in Miami. I had a tooth that broke and needed to be replaced with a dental implant… The surgery was painless and I was asleep the entire time and now I have a brand new tooth. It was really a stress free experience and at a much lower price than other offices. I highly recommend America's First to anyone that needs dental implants.
– David C.
Miami, FL