Dental Implant Procedures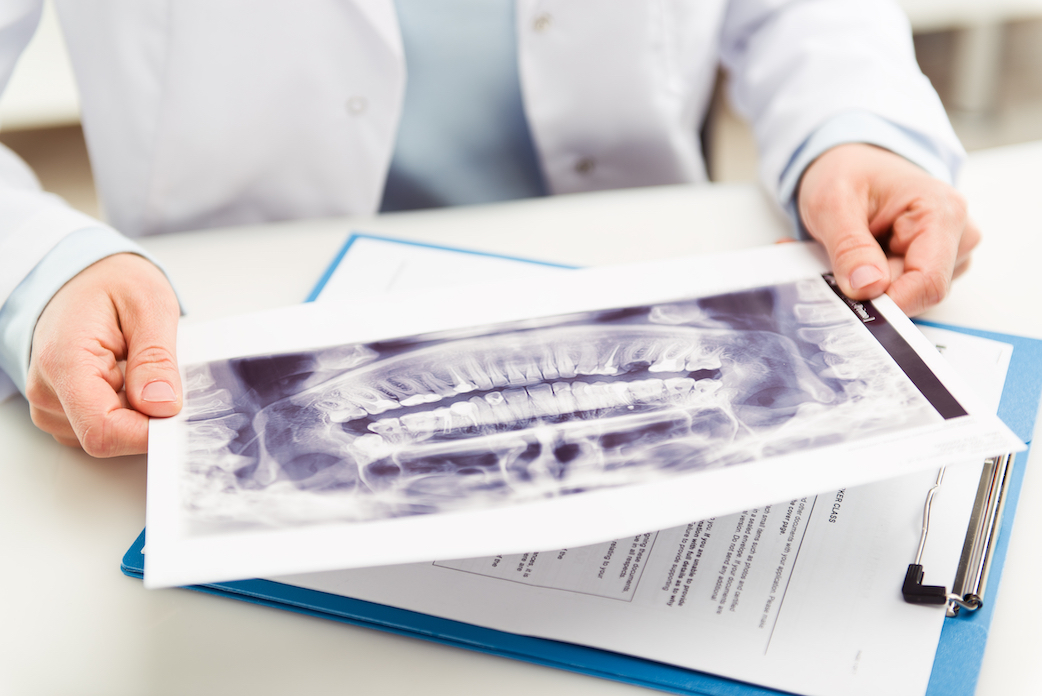 Missing, damaged or misaligned teeth are painful, make eating difficult and may cause infections leading to abscesses and swelling. They can also harm your self-confidence and lead to changes in the shape of your face. Dental implants procedures are the best way to replace missing or damaged teeth, giving you the most comfortable and best-looking set of new teeth available.
Jump To:
Schedule Free Consultation
Dental Implants Procedures & Steps
Components:
The dental implant procedure places three components into a person's jaw
The implant itself: The implant is a small metal screw surgically placed into small holes drilled into the jawbone.
An abutment. Abutments are used to connect your dental implant to the crown.
A dental implant crown. Dental implant crowns are not the same as a crown placed on top of an already existing natural tooth. A dental implant crown attaches to the abutment and is made of durable, natural-looking zirconia.
Types of Dental Implants:

Single implant: If you have just one tooth that needs replacing, a single dental implant is an excellent choice. In a single dental implant procedure, only one titanium post placed into the jaw. The abutment and crown are placed on top of that implant after healing is complete—usually 2 to 3 months
Full mouth dental implants (i.e., full arch, Teeth-in-a-Day, all-on-X, 4-on-1): In contrast, in a full arch dental implant procedure, 4 implant posts are placed in each jawbone. A bridge containing an entire arch of teeth is then placed on top of these implants after healing is complete, which typically takes around 3 months.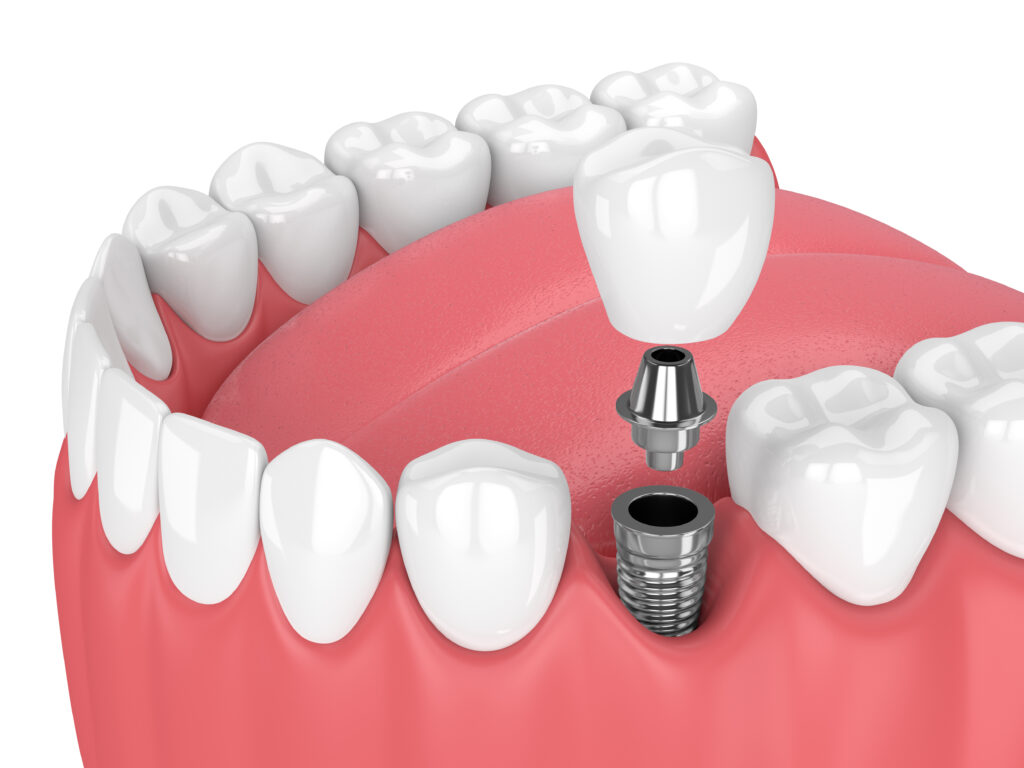 Before the dental implant procedure
The following steps are common to both the single dental implant and full arch. Before the surgery, your oral surgeon will:
Take a detailed medical history

Perform a thorough oral examination of your mouth

Take 3D CT scans and X-rays of your jawbone. 
The examination and scans are necessary to find out how thick your jawbone is. Dental implant posts require the jawbone to be thick enough to support the pressure the implant will be under during chewing. Digital imaging also allows a pair of temporary teeth to be made for you to wear home.
During the dental implant procedure
Extracts any existing tooth or teeth that need to be removed

Makes incisions in the gum tissue at the implant site, exposing the jawbone

Drills small hole(s) into the jawbone and insert titanium implant(s) into the jawbone hole(s)

Closes the gum tissue around the implants
For a single implant and full mouth dental implants, healing takes 2 to 3 months, during which time the jawbone fuses with the implant post. Once the jawbone has healed, an abutment is placed onto the implant post. After healing is complete, a permanent crown/bridge is placed onto the abutment(s). 
How Dental Implants Work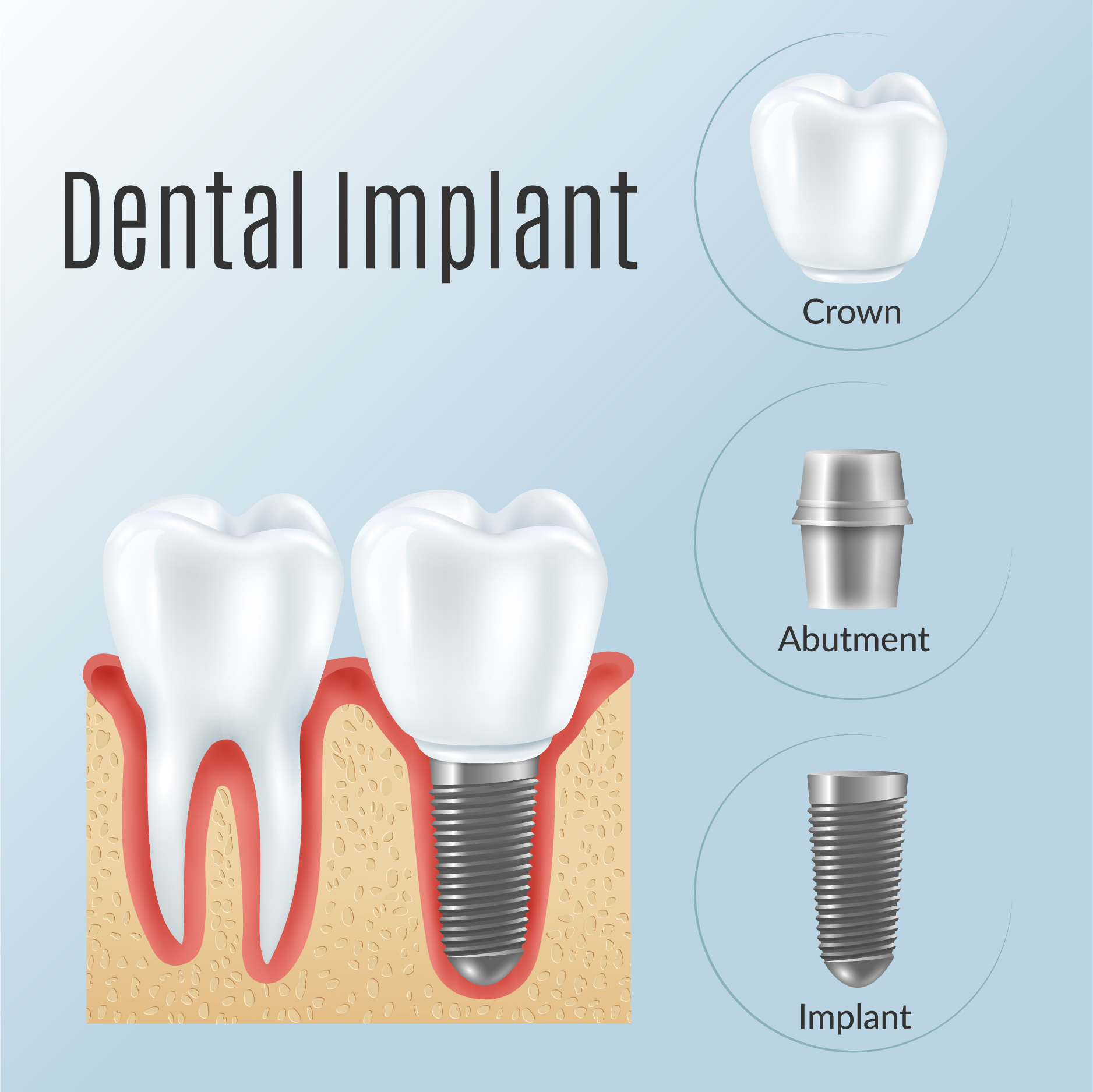 Dental implants work just like natural tooth roots. They're made of titanium posts that are implanted surgically into the jawbone, and the crown or bridge (i.e., the part people see when you smile) will be placed on top of the implants. Because dental implants are firmly and permanently placed inside the living bone of the jaw, they halt bone loss, as well as provide a steady base for an artificial tooth or bridge.
A small metal connector called an abutment is placed on top of each implant. The abutment joins the artificial tooth to the titanium post implanted into the jaw. The artificial tooth (or teeth) is called a crown.
Crowns are prosthetic (artificial) teeth custom-made to fit a person's mouth and unique oral health and aesthetic needs. When more than one tooth is held in place by dental implants, the entire row of artificial teeth is called a bridge.
Dental implants also have a lot of advantages over dentures:
They fit, feel and look just like healthy natural teeth.
Dental implants allow a person the freedom to eat any type of food, without discomfort or pain.
Unlike dentures, dental implants don't have to be removed, are durable, and can last a lifetime.
Dental Implants Bone Grafting Procedures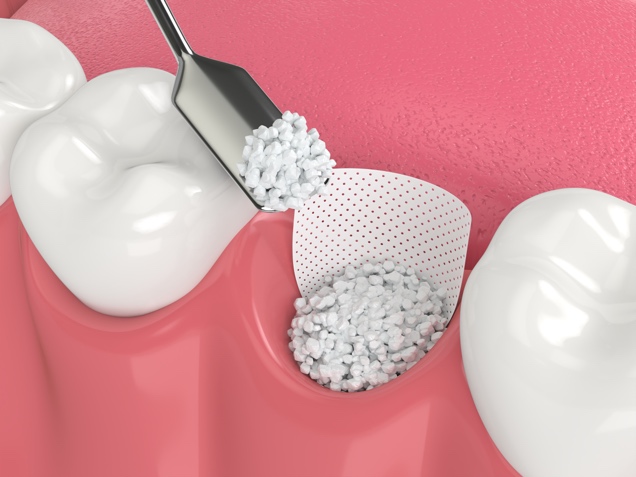 Bone grafting is an outpatient procedure performed by your dental implant oral surgeon. Dental implant bone grafting is used to help people who have lost bone mass after experiencing bone resorption, which causes thinning bone structure in the jaws. When teeth are removed, the lack of tooth roots causes the blood vessels of the jaw's bone tissue to stop nourishing the bone, and the body gradually reduces the bone mass for use elsewhere. Bone loss can also be caused by gum disease. Gum disease results most often from bacteria invading gum tissue, leading to soft tissue damage, loose and missing teeth, and damage to the jawbones. A bone graft will replace or repair bone.
Dental implant bone grafting is necessary in the aforementioned cases. The good news is that you can still get dental implants even in cases where the jawbone has experienced significant thinning.

If after a close examination of your mouth and evaluation of the thickness of your jawbone, your oral surgeon recommends an oral bone grafting procedure, the following steps will be taken.
When performing a bone graft, an oral surgeon performs the following steps:
You will be IV sedated so the entire procedure will be more comfortable.
Any remaining natural teeth that must come out will be removed.
Your oral surgeon will surgically open the gum tissue around the area where the graft is to be placed.
The oral surgeon closes the opening, sealing the newly placed material inside.
Over about 4 months, the bone graft material is broken down and used by the body to construct bone in the jaw. This lifts the height and thickness of the jawbone, making it firm enough to support dental implants.
Sinus Lift Procedure and Steps
When a bone graft procedure is conducted on the upper back jaw, it is called a sinus lift procedure. This procedure is sometimes used for full mouth dental implants. A sinus lift procedure increases the amount and density of the bone mass in the upper back jaw, creating a strong foundation for stable and long-lasting dental implants.
The sinus lift procedure gives you a thicker, healthier jawbone in which to place dental implants.
The dental implant sinus lift procedure is similar to other bone grafting procedures for dental implants. Your oral surgeon will open the upper back jawbone where your back teeth were. The floor of the maxillary sinus will be elevated, and the new bone graft material is then placed inside the incision. The incision is then closed.
I went in to [America's First] due to bad work from another dentist… the previous work needed to be fixed ASAP. Dr. walked me through how he would fix my implants and made me feel much more at ease. It was easy to work with his office to schedule the procedure. I am so happy I found him and his work is great! Definitely smiling big now =)
– Katelyn R.
Patient from Miami, FL
After several months of going to many dental offices for consults, I finally found America's First Dental Implant Centers, and thank GOD I did… I drove all the way from Naples to Miami for my treatment and it was definitely worth it. I recommend America's First to anyone that needs dental implants. Thank you to the Doctor and team at America's First!
– Kenneth O.
Patient from Naples, FL
Big thank you to the Oral Surgeon doctor and staff at America's First Dental Implant Center in Miami. I had a tooth that broke and needed to be replaced with a dental implant… The surgery was painless and I was asleep the entire time and now I have a brand new tooth. It was really a stress free experience and at a much lower price than other offices. I highly recommend America's First to anyone that needs dental implants.
– David C.
Miami, FL
Avoiding Pain in Dental Implant Procedures
Dental implant procedures do not hurt because they are performed under  IV sedation anesthesia (which is always used here at America's First Dental Implant Centers).
Dental implant recipients report that pain after the dental implant is no more serious than that of any other dental procedure. Dental implant procedures pain can be managed with ibuprofen or acetaminophen.  However, if needed then stronger pain medications can be prescribed.
Learn more about painless dental implants
4-on-1 (i.e., Full Mouth, Full Arch, All-on-X) Dental Implant Procedures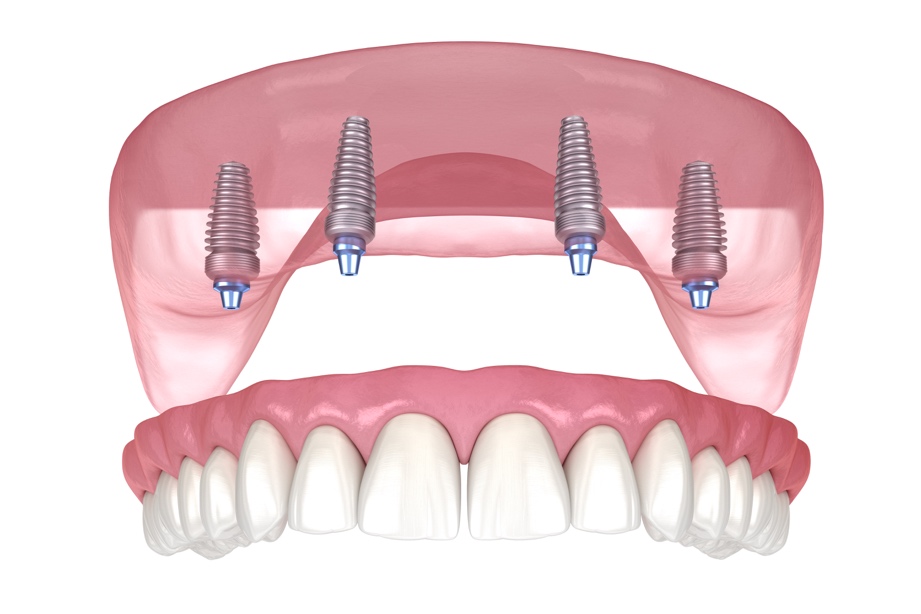 Full mouth dental implants – also known as 4-on-1, All-on-X, teeth in a day, and full arch dental implants – replace an entire arch, or row of teeth in one procedure. This is a one-day procedure. 4-on-1 procedures are the perfect solution in situations where people have many missing or damaged teeth or have lost all their natural teeth due to gum disease or injuries.
4 on 1 full arch dental implants provide a convenient means of restoring the look, fit and function of natural teeth. Full arch dental implants also return a person's bite to normal, alleviating pain while improving the person's ability to chew.
We specialize in 4-on-1 dental implants and are experts in full arch dental restoration.
---
---
Full Mouth Dental Implants Procedure Costs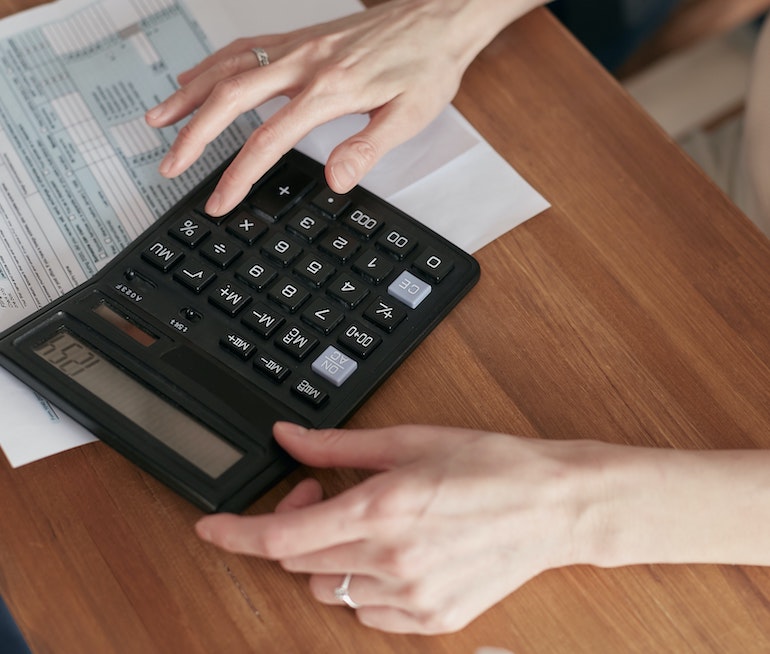 The average national cost of full arch dental implants ranges from $25,000 to $40,000 per arch. Our price is $14,950 per arch, which is approximately 40% – 60+% less than our competition.
We can offer this price because we only work with oral surgeons who are experts in the procedure. Oral and maxillofacial surgeons have at least 4 to 6 years of hospital training in complex surgical procedures, including the safe use of anesthesia.
The full arch dental implants procedure costs are all-inclusive and include:
all appointments, including consults and post-operative follow-ups

surgery (IV sedation, extraction if needed, etc.)

temporary and permanent teeth
4-on-1, All-on-X, Full Mouth, Teeth in a Day Procedures FAQ
You can get a new smile in a day with the all on X (i.e., full arch, teeth-in-a-day) procedure. With teeth-in-a-day, you receive all your dental implants and a provisional set of teeth on the same day. Below are some common questions that our patients ask us.
Jump to your specific question below: