All You Need to Know

Full Arch Dental Implants
Full Arch Dental Implants
Full arch dental implants, also known as All-on-4 and teeth-in-a-day dental implants, is a highly successful dental procedure developed several years ago. The procedure allows oral surgeons to complete a full arch of dental implants (aka teeth in a day, all-on-four) in a few hours.
Full arch dental implants are an ideal option for many people compared to individual implants. Not only do they offer you efficient results in a fraction of time, but you don't have to get one implant for each missing or damaged tooth. Also, the dental implant cost of a full mouth or full arch dental implants is exceptionally lower than several individual dental implants.
So, if you have several missing or damaged teeth, full-arch dental implants might be a worthwhile option to consider. How does it work? Read on to find out.
How the Full Arch Dental Implant Procedure Works
Typical Process
Consultation
First, you will visit the oral surgeon for a consultation. Your oral surgeon will take your 3-D CT scan and discuss and evaluate the best dental procedures for you. They will also guide you about the procedure and cost of full-arch dental implants. At this meeting, you can discuss different payment options.
Pre-Operative Appointment
Once you decide to get full arch dental implants, your oral surgeon will meet with you in a pre-operative consultation. During this time, the oral surgeon will perform a thorough examination of your mouth and x-rays. They might also take necessary measurements to customize your treatment.
It's best to ask questions you may have, as the surgeon is the foremost expert on this treatment and can address any questions or concerns you might have.
Dental Implants
Your oral surgeon will use the latest technology to make a perfect set of full-arch dental implants for you.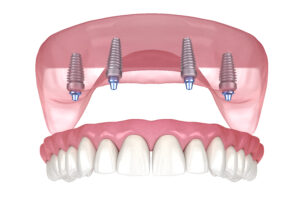 New Permanent Teeth
After 3 months of healing, your gums and jawbones will be fused with the implants. Your oral surgeon will then set an appointment for the final, permanent teeth. This appointment will be non-surgical and painless, and they will create your final permanent teeth so that you can have the most confident and beautiful smile.
Materials for Dental Implants
Implants
Implants are titanium posts that are inserted into your jawbone and secure the base of your missing teeth. Titanium is strong and durable and doesn't cause any harm to your body. These implants will be permanently fused to your bone.
Abutments
They are not noticeable and work as a connecting piece that connects your new teeth with the titanium implants.
Custom Arch
These are the row of teeth that you can notice when smiling. The arch will be customized to suit your facial features. Moreover, it will appear completely natural, making it almost impossible for someone to identify your artificial teeth.
Teeth Material
The final permanent teeth your surgeon will install will be made of zirconia, which is the best and most durable and aesthetic material available. This material offers superior results and longer life expectancy than acrylic.
Full Arch Cost and Pricing
The national average for full arch dental implants is around $25,000 to $40,000 per arch, depending on the condition of your teeth as well as where the procedure will be performed. You also need to understand that the cost of the full arch implant can vary greatly due to the following factors:
Whether or not you need bone grafting
The number of dental implants you need
However, we provide full arch dental implants for $14,950 per arch. We are able to offer it at this highly competitive rate because our oral surgeons are highly experienced and efficient, using the latest technology. Our oral surgeons have performed over 5,000 full-arch dental implant surgeries, including many that fix failed dental implants performed by other providers previously.
What is Included in Teeth-in-a-Day Cost?
The fee you will pay will cover everything from your first visit to the delivery of your final permanent zirconia teeth. Apart from this, all the necessary hardware, equipment, procedures, anesthesia, and follow-up appointments will be included in your quote.
You also don't need to pay additional fees for the crown and abutments. Plus, both the temporary teeth delivered on surgery day and final permanent teeth and 4 dental implants are included in the given quote.
Keep in mind that teeth-in-a-day is designed to save you money and time. Our oral surgeons use procedures and techniques that cost you less than other procedures.
Teeth in a Day Cost vs. Individual Implant Cost
In general, dental implants can cost you around $3,000 to $6,000 for a single implant. So, if you want multiple implants, the cost will increase with each implant, leading to a significant amount at the end.
When it comes to dental implants for a full mouth, our cost is $14,950. This means that you can fix every tooth at a lower cost than single dental implants. Because it is cost-effective and offers excellent results, people usually prefer to have the teeth in a day procedure rather than several single dental implants.
Financing options
We work with a number of financing partners to make dental implants accessible to a vast majority of our patients. When you come in for your free consultation, we'll review your financial history and assist you with our financing partners to determine the best options.
Full Arch Resources & Materials
Q1: Why is Full-Arch better than Getting Individual Implants?
if you need to replace multiple teeth, then full arch dental implants is likely more efficient than getting individual implants. Most importantly, it will likely save you time and money. A single dental implant costs between $3,000 to $6,000, and so the cost increases quickly as the number of missing teeth increases. In contrast, full-arch is offered at a fixed fee – $14,950 –that is unaffected by how many damaged and missing teeth you have. Furthermore, full-arch implants can help treat dental diseases and stop further bone loss.
Q2. How long is the Full-Arch Surgical Procedure?
The full-arch surgery will last approximately 1-2 hours, and the entire visit will take about 3 to 4 hours. After the procedure, your jawbone needs approximately 3 months to fuse with the implants. During this time, you will have temporary teeth. After 3 months, the surgeon will install your permanent teeth; this is not a surgical procedure and will be painless.
Q3. Is the Full-Arch Procedure Painful?
You might be surprised to know that dental implants for a full mouth are a relatively painless procedure. Not only this, but the modern dental implant process has also simplified the placement of new teeth. You don't need 32 implants to replace 32 teeth.
Q4. How long is the Healing Process for Full-Arch?
As we have mentioned, once you get implants, your oral surgeon will give you sufficient time for recovery. They can take around three months to heal completely. However, the recovery time can vary from one person to another.
Q5. Can People Tell I Had Full-Arch Procedure?
Full arch dental implants are designed to offer you a natural look. They are similar to natural healthy teeth, and it is nearly impossible for anyone to identify them. Due to their natural look, you also feel confident, young, and beautiful after dental surgery.
Q6. How long do Dental Implants last?
If you follow the guidelines of your oral surgeon, full arch dental implants can last a lifetime. Moreover, if you grind and clench your teeth, also known as bruxism, zirconia dental implants are the best option for you. As we have mentioned, these implants offer durability and best aesthetically pleasing results.
Q7. What are the Benefits of Dental Implants?
The only permanent fixed solution to replacing hopelessly damaged or missing teeth is dental implants. Furthermore, dental implants prevent bone loss. Besides offering you the best natural teeth replacement, they serve the major function of eliminating infection and pain and restoring your best life. Dental implants look natural and function like real, natural teeth.
Q8: Are Dental Implants better than Dentures?
Dental implants are permanent and forever, while dentures are not permanent and require replacement typically every 5 years. Implants offer you convenient oral hygiene, better chewing capabilities, and easy handling and maintenance. Moreover, dental implants eliminate the risk of bone loss that occurs when you lose your teeth.
Dentures are less expensive, but they have many shortcomings. They can move and slip around, are bulky, can cause great discomfort to your gums and mouth, and are generally inconvenient.
Q9. Why go to America's Best for the Full Arch Implant Procedure?
At America's Best, the entire full-arch procedure will be handled by a single team, from your first consultation to post-procedure dental checkups. Most oral surgeons don't have their onsite laboratory. For this reason, they have to outsource lab work and work with outside technicians and prosthodontists. However, when you get the entire treatment done by a single clinic, you can expect greater efficiency and long-lasting results. Furthermore, unlike many regional and national competitors, we only work with licensed oral surgeons. After dental school, oral surgeons complete an additional 4-6 years of hospital-based training, where they receive training in dental surgery and gain experience performing dental surgery using anesthesia.
Q10. Can I Eat After Getting Full-Arch Surgery?
Your ability to chew will be temporarily affected after the implant placement. This is why you'll need to stick to a diet of soft foods fora few days. After this initial healing period, you can start consuming most foods that you typically eat.
Q11. What Pain Medication Will I Need?
Since the pain can vary from patient to patient, your surgeon will prescribe medications according to your needs. Typically, the oral surgeon will prescribe to you pain medications that you may need to take for a few days after surgery.
Q12. Will My Surgeon Recommend Antibiotics?
Yes, your oral surgeon will prescribe an antibiotic to take for around 7 days after the operation. You might also need to take an antimicrobial mouth rinse, known as Peridex, for at least one week after your procedure.
Q13. Are There Any Restrictions for Activities Post-Operation?
Your surgeon will recommend you avoid driving only on the surgery day due to sedation., Likewise, depending on the number of teeth you get replaced and your mouth condition, your surgeon may recommend you avoid strenuous activities for a few days.
Q14. When Can I Go Back to Work?
In many cases, you can start going to work after a week following the surgery. However, you need to continue visiting the clinic periodically for post-operative checkup appointments.