Snap-In Dentures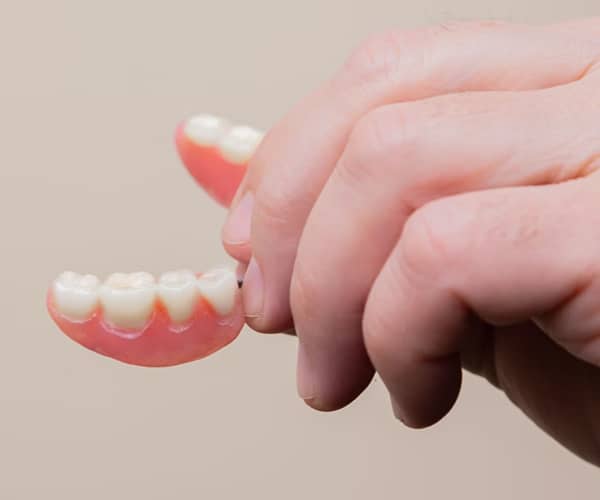 If you're looking for dental solutions to replace missing or damaged teeth, you have likely already considered dentures. One of the newer dental procedures for dentures is a product called "snap-in" dentures. Our offices get questions about snap-in dentures regularly, so let's take a closer look at what exactly this dental product is and how it compares to other options.
Jump To:
Schedule Free Consultation
What Are Snap-In Dentures?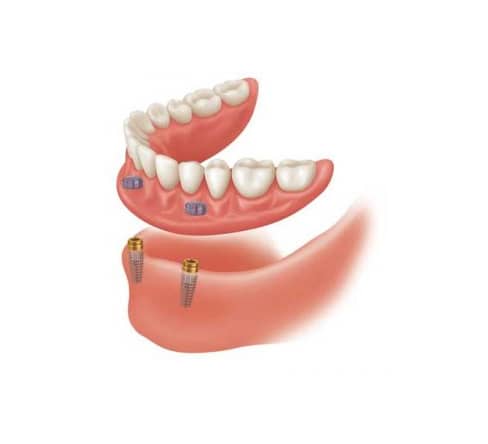 Snap-in dentures go by several different terms including snap-on dentures, anchor supported-dentures, implant dentures, overdenture, and permanent denture. Regardless of the specific term used by a dental office, the product will be the same.
Snap-in dentures look and feel like traditional dentures, except instead of using adhesives to stay in your mouth, snap-in dentures "snap" into permanent abutments that are placed into your jawbone. Just like regular dentures, the false teeth are designed to be removed every night for cleaning. Eventually, the false teeth will need to be replaced, which is usually every five years. This can happen sooner if the false teeth are damaged, which is common with snap-in dentures.
Snap-in dentures have many of the drawbacks that traditional dentures have. The false teeth are made from acrylic (a type of plastic), which is porous, which makes it easy for bacteria to grow and cause bad odors. The acrylic is also easily damaged, which is why snap-in dentures have dietary restrictions similar to traditional dentures
Call for a Free Consultation
Snap-In Denture Cost
According to research, snap-in dentures cost between $8,000 – $12,000 per row of teeth, and replacement teeth (which is needed every 5 years) costs $2,500-$5,000/arch. However, dental offices often advertise prices that are much lower than these national averages. These too-good-to-be-true prices are due on common tactics used to hide the true cost. Some of those tactics include:
Not including prosthetic (fake teeth) materials in the price

Not including tooth extraction in the price

Showing a "cheapest possible" price, and then upselling you on higher-quality materials and implants

Not including adjustments and follow-up appointments in the upfront price

Not including IV anesthesia for the surgery
You'll need to really dig into the fine print of what is and is not covered in the initial fee for snap-in dentures. It's common to run into all kinds of hidden costs and fees. If you're considering a dental office that is reluctant to guarantee a flat, upfront price, then we encourage you to consider a different dental office.
Full Arch (4-on-1, All-on-X) Dental Implant Cost
On the flip side, our full arch (i.e., All-on-X, 4-on-1) dental implants has an upfront, all-inclusive cost of $14,950 per arch. This covers:
All consultation and appointments

The surgery to place dental implant screws

Temporary and permanent teeth

Tooth extraction(s)

IV anesthesia

All materials for the titanium implants and zirconia crown
From our experience, full arch dental implants offers patients a better dental solution than snap-in dentures. You can learn more about this on our page snap-in dentures vs. dental implants or contact us (online or call us 1-866-974-1796) for a free, risk-free consult to learn more about the different dental solutions.
I went in to [America's First] due to bad work from another dentist… the previous work needed to be fixed ASAP. Dr. walked me through how he would fix my implants and made me feel much more at ease. It was easy to work with his office to schedule the procedure. I am so happy I found him and his work is great! Definitely smiling big now =)
– Katelyn R.
Patient from Miami, FL
After several months of going to many dental offices for consults, I finally found America's First Dental Implant Centers, and thank GOD I did… I drove all the way from Naples to Miami for my treatment and it was definitely worth it. I recommend America's First to anyone that needs dental implants. Thank you to the Doctor and team at America's First!
– Kenneth O.
Patient from Naples, FL
Big thank you to the Oral Surgeon doctor and staff at America's First Dental Implant Center in Miami. I had a tooth that broke and needed to be replaced with a dental implant… The surgery was painless and I was asleep the entire time and now I have a brand new tooth. It was really a stress free experience and at a much lower price than other offices. I highly recommend America's First to anyone that needs dental implants.
– David C.
Miami, FL