Dental Implant Resources & Information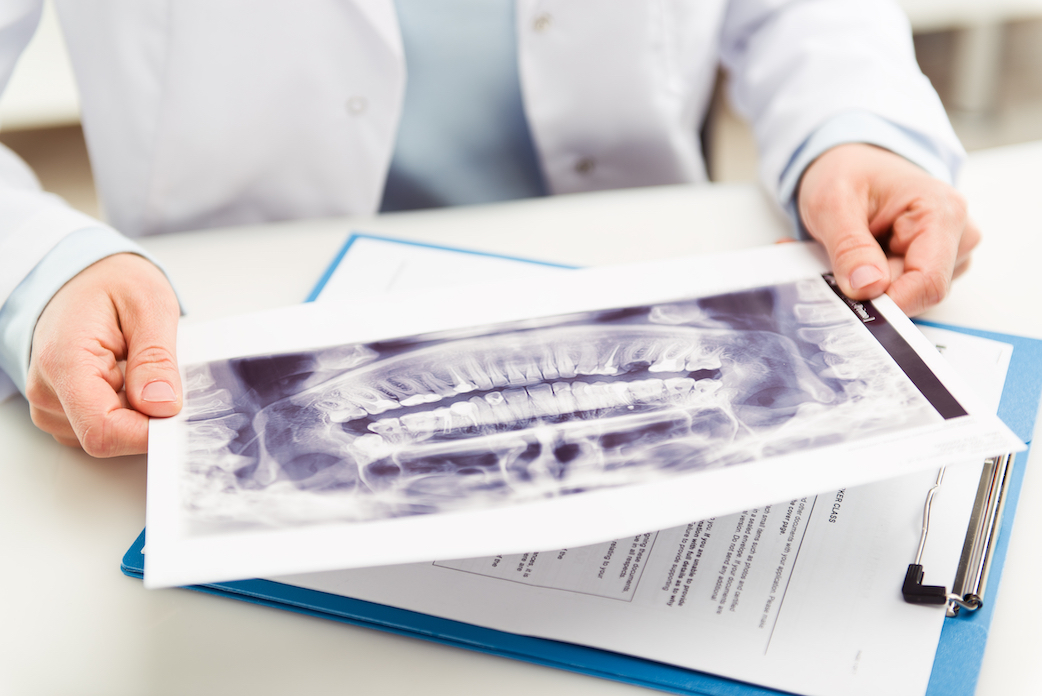 Dental implants are artificial tooth roots made of titanium posts placed directly into the jawbone. Over time, living bone fuses around the implant, providing unparalleled stability and security for the prosthetic teeth placed on top of the implants. Dental implants look, feel, and function just like natural teeth. They're durable and can last a lifetime while allowing a person to eat and speak with confidence.
Jump To:
Schedule Free Consultation
Dental Implant Components
Dental implants have three components:
The implant. The dental implant is a biocompatible titanium screw that is permanently placed into the jawbone through a surgical procedure.
The abutment: An abutment connects the implant to an artificial tooth or teeth. Abutments are permanent but can be removed by your oral surgeon.
The crown. The crown is a prosthetic artificial tooth custom-made to fit the unique curve of your jaw. Crowns are made of porcelain or zirconium, both of which are durable, good-looking, and can last a lifetime.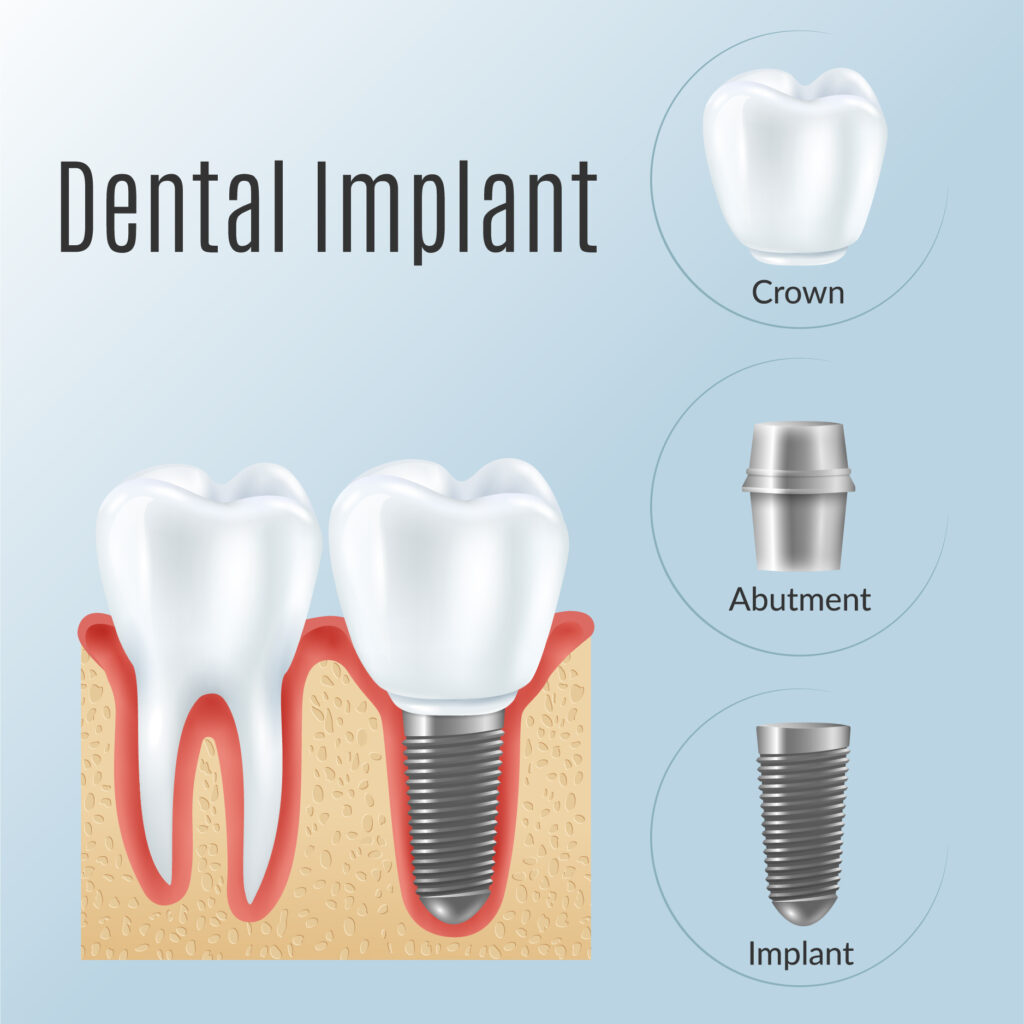 Types of Dental Implants
There's a type of dental implant for every need, whether it's a single tooth implant, multiple tooth replacement, or a full arch dental implant. No matter what type of dental implant a person is receiving, the surgical procedures are similar.
Single Tooth Implant
A single tooth implant is the ideal treatment solution for a patient with one missing or severely damaged tooth. In a single tooth implant procedure, one crown is supported by one titanium post.
Multiple Tooth Implants
In a multiple tooth implant, a patient needs several adjacent teeth replaced, but may have some remaining teeth that are healthy. A multiple tooth implant requires a bridge to be placed on two implants while leaving the healthy teeth in place. In many situations, the full arch dental implant can be a more efficient and economical choice.
Full Mouth Dental Implants (i.e., Full arch, All-on-X, 4-on-1)
Full arch dental implants replace a full upper or lower arch of teeth. Full arch dental restoration uses four implants per arch to support a dental prosthetic that is permanently affixed to the implant's post. It's a smart choice for people who have several missing or damaged teeth and want to regain all benefits of having a full set of healthy, natural-looking teeth.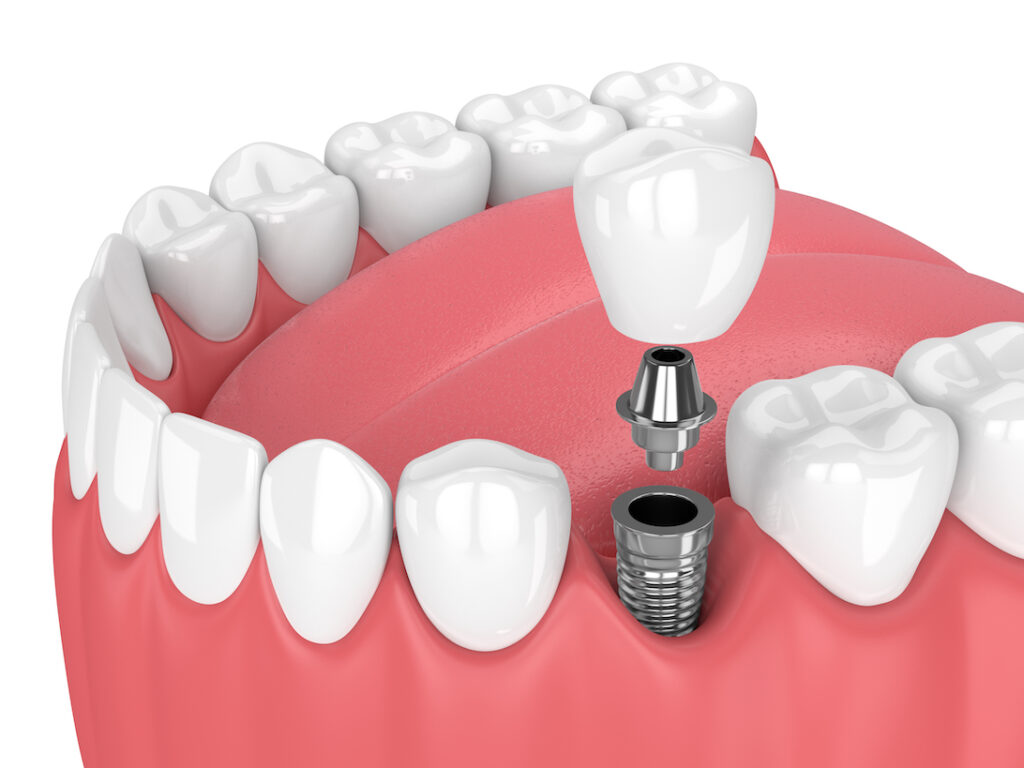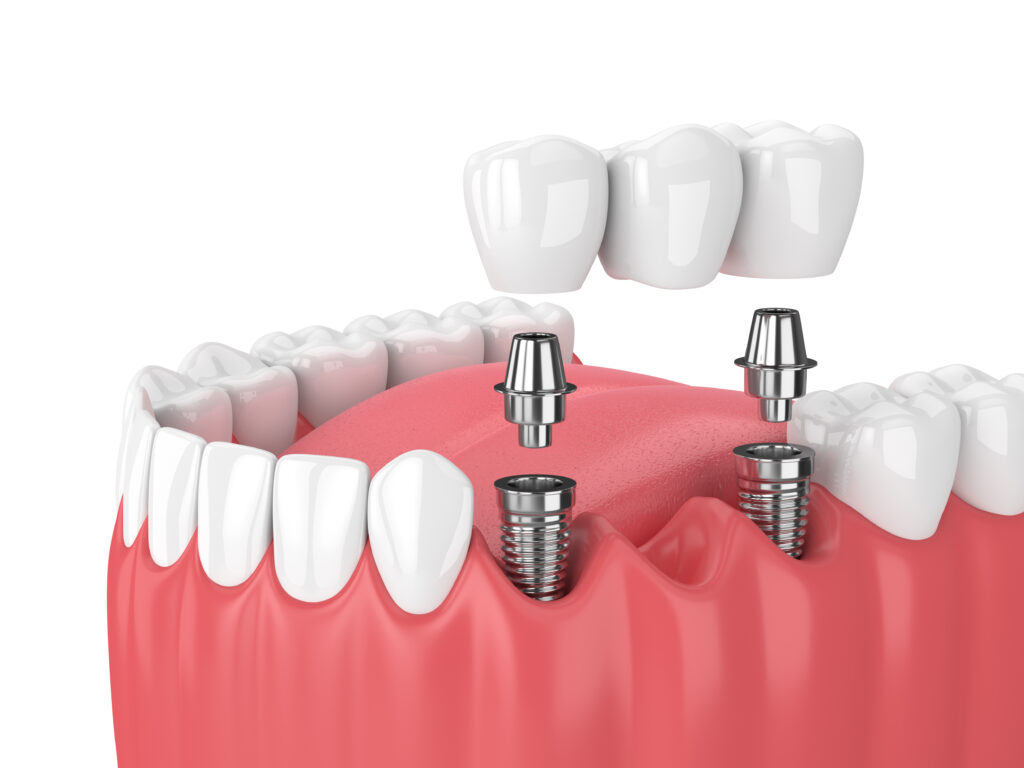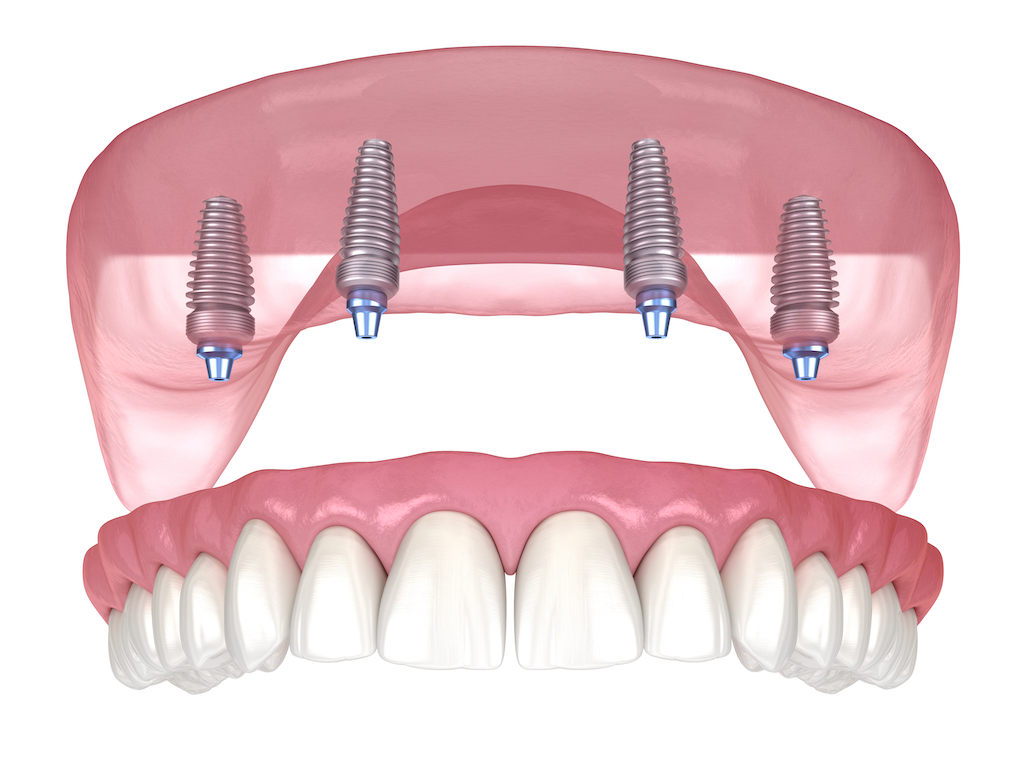 Dentures vs. Dental Implants
Dental implants are superior to dentures in most ways. While dentures are typically less expensive than dental implants, dental implants are better in their fit and function and will never slip or move when you speak or eat. 
Dental implants are as comfortable as natural teeth and function just the same. You don't have to bother with taking out dental implants; unlike dentures, dental implants are securely and permanently attached. Dental implants can last a lifetime, and they're as strong as natural teeth. Dentures can be fragile and may break.
Some other differences between dentures and dental implants include:
Dentures
A wearer needs to avoid hard foods

Must be removed for cleaning

Wearer will lose bone tissue over time

Will need to be replaced every 5 to 8 years

Can cause gum irritation

Can be fragile and may break when chewing hard foods 

Speech and enunciation may be affected     

Chewing can be uncomfortable
Dental Implants
A wearer can eat any food they want with no restrictions

Cleans just like natural teeth

Prevents bone loss in the jawbones

Life-long investment

Comfortable

Durable and strong, like natural teeth

Allows normal speech and correct enunciation

Allows a person to chew without discomfort
I went in to [America's First] due to bad work from another dentist… the previous work needed to be fixed ASAP. Dr. walked me through how he would fix my implants and made me feel much more at ease. It was easy to work with his office to schedule the procedure. I am so happy I found him and his work is great! Definitely smiling big now =)
– Katelyn R.
Patient from Miami, FL
After several months of going to many dental offices for consults, I finally found America's First Dental Implant Centers, and thank GOD I did… I drove all the way from Naples to Miami for my treatment and it was definitely worth it. I recommend America's First to anyone that needs dental implants. Thank you to the Doctor and team at America's First!
– Kenneth O.
Patient from Naples, FL
Big thank you to the Oral Surgeon doctor and staff at America's First Dental Implant Center in Miami. I had a tooth that broke and needed to be replaced with a dental implant… The surgery was painless and I was asleep the entire time and now I have a brand new tooth. It was really a stress free experience and at a much lower price than other offices. I highly recommend America's First to anyone that needs dental implants.
– David C.
Miami, FL
---
Dental Implant Post-Procedure Care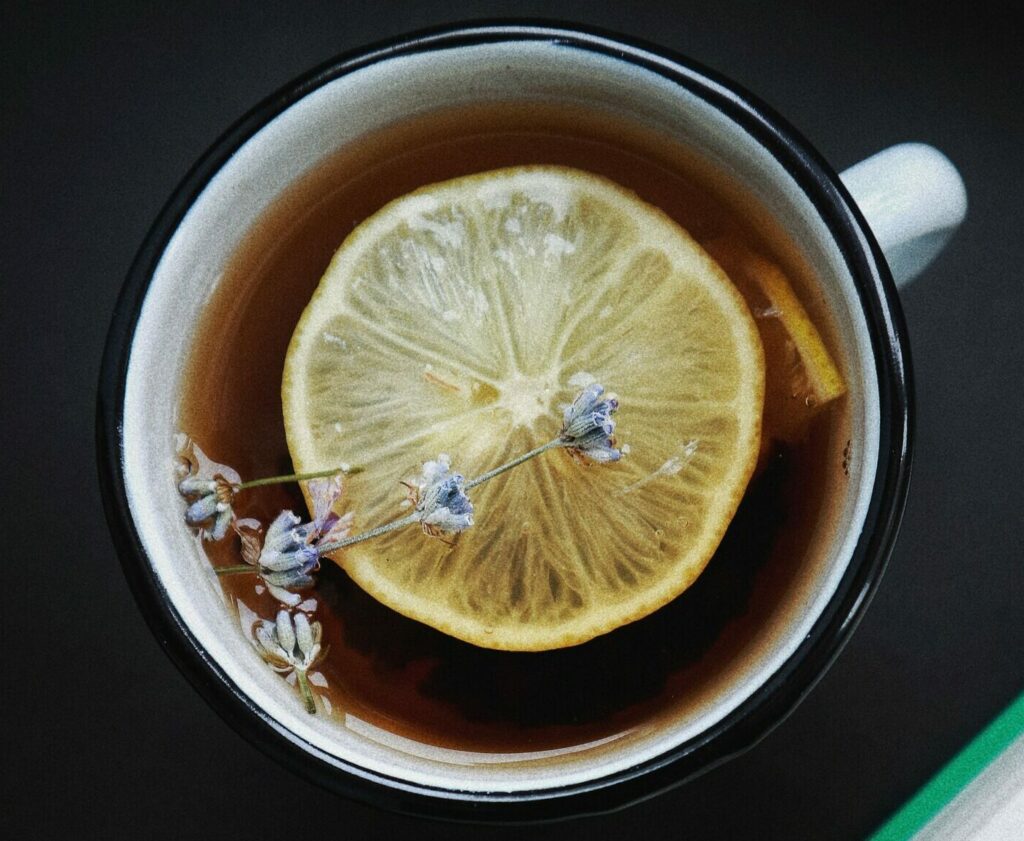 During your recovery from a dental implant procedure, you will need to follow a few easy and helpful guidelines:
What Types of Foods Can I Eat?
Eat soft foods for the first 48 hours after your surgery and keep hydrated with plenty of liquids. After the initial few days, you may start to eat a wider range of food.
Add protein to your diet.
Your body needs a lot of protein for healing after your procedure, so make sure to add protein supplements to your diet. Many supplement brands offer protein powders that can be added to beverages.
Avoid Drinking Straws
Suction of any sort, including drinking straws and smoking cigarettes, will slow or stop the healing process.
Will I Go Home with Medication?
Most people receive oral antibiotics and pain medication after getting implants.
What Are My Oral Hygiene Instructions?
Practicing great oral hygiene is a must to ensure proper healing from implant surgery.
Avoid disturbing the surgical sites
Starting the day after surgery, gently rinse your mouth out with saltwater or Peridex.
Use a soft, manual toothbrush to clean your new teeth.
Use a Waterpik
What are some common reactions after receiving dental implants?
Minor bleeding
Pain at the surgical site
Bruising of the skin and gums
Facial swelling
Swelling of the gums
What Are the Restrictions on Driving and Activities?
Avoid driving during the first 12 to 24 hours after your implant surgery and avoid any strenuous physical activities for 7 days.
When Can I Return to Work?
Depending on the extent of your implant procedures, you may be able to return to work within one to four days.
When Do I Return for Follow-Up?
After your full arch surgery, you'll return to your oral surgeon's office within 1-2 weeks. Then about 3 months after this follow-up, you'll return to your oral surgeon's office for your permanent teeth.
Is there a lot of pain involved with having dental implant surgery?
No, during the dental implant surgery, you will be under sedation and so you won't be in any pain. After the surgery, most people report mild pain, which can be managed with over-the-counter pain medication (e.g., ibuprofen). Stronger medication may be prescribed by your oral surgeon if needed.