What Are Zirconia Dental Implants?
You have a lot of options when it comes to replacing missing teeth, but only dental implants will give you the fit, function, and feel of natural teeth. Dental implants are a long-lasting and natural-looking solution for missing teeth that never need removing and require no special cleaning routines. Unlike other approaches to restoring teeth, dental implants won't slip and will restore a person's bite strength and jaw alignment to normal.
Before we dive into zirconia implants, let's note that dental implants are artificial tooth roots made of small rods (implant posts) implanted into the jawbones, on top of which are placed dental crowns or bridges (see figure 1 below). The best combination of materials for dental implants is a titanium metal post with zirconia teeth as the crown or bridge.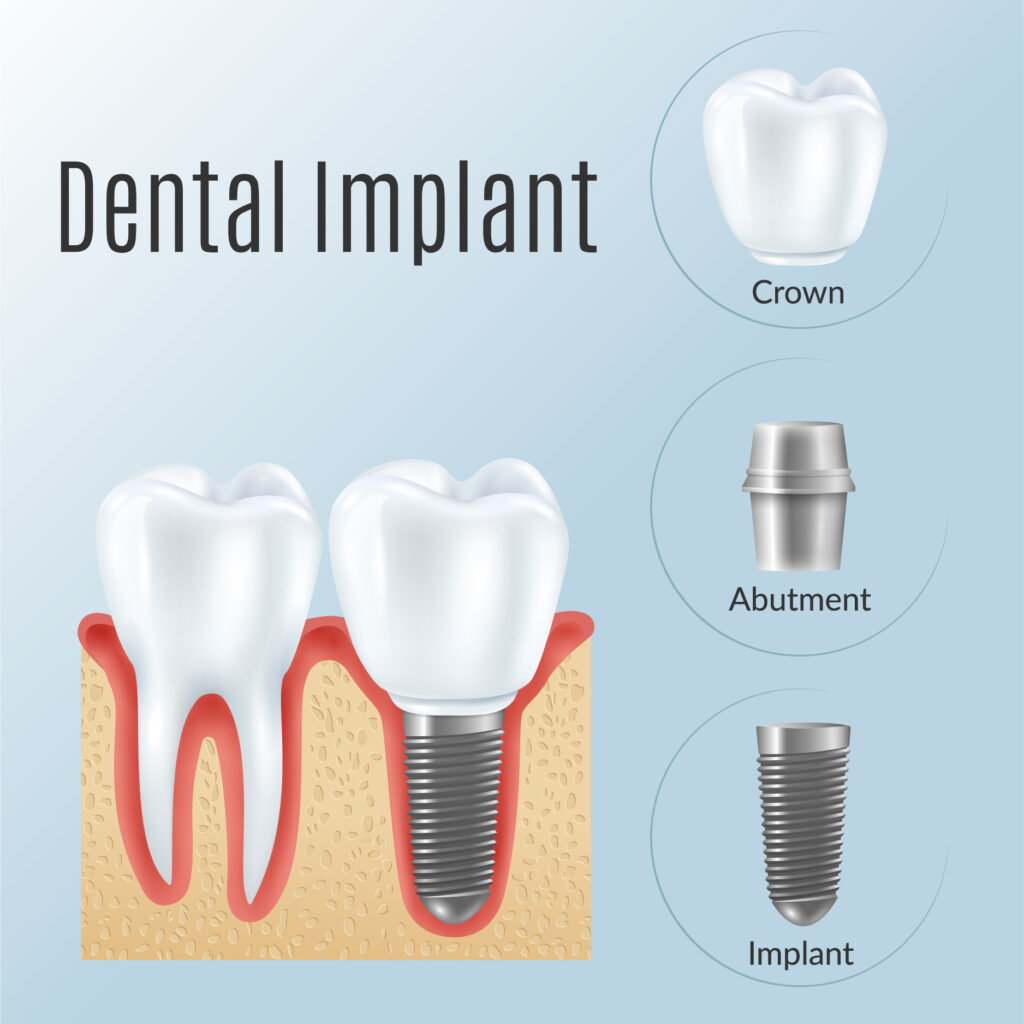 When referring to zirconia dental implants, people might be referring to one of two things:
1. A dental implant where the post is made of titanium and the crown/bridge is made of zirconia
2. A dental implant where the post is made of zirconia.
The former (1. dental implant with a titanium post and zirconia crown/bridge) is considered the gold standard for dental implants.
The latter (2. dental implant with zirconia post) gained popularity from 2005-2015. However, they've gone out of favor since zirconia perform the best when used in crown/bridge. Below we talk about the history of zirconia dental implants as well as how zirconia fare as both the teeth (i.e., crown/bridge) and the post (i.e., the post that gets placed into the jawbone).
History of Zirconia Being Used for Dental Applications
Dental implant crowns were first made of zirconia in the early 2000s, but zirconia has been used in other dental applications since 1969. Zirconia is a lab-made biocompatible material that is composed of zirconium dioxide, a white ceramic powder that can be pressure-formed into extremely strong replacements for natural teeth, as well as other dental appliances.
Zirconia is stronger and more resilient than other materials used for dental crowns, such as porcelain or acrylic.
Zirconia as the Teeth
Zirconia is the gold standard for dental implant crowns and bridges. Crowns and bridges made from zirconia replicate the look and feel of natural teeth better than any other material on the market. Not only does zirconia's natural white color make it a great aesthetic choice, but zirconia crowns can also be color-matched to surrounding teeth
They deliver the same resistance to staining, chipping, and cracking that natural teeth have.
Dental implant teeth and bridges made of acrylic cost less than zirconia teeth, but acrylic has a lot of drawbacks, such as its fragility over time and tendency to stain. Zirconia is consistently superior to all other materials used in making artificial teeth, including acrylic and porcelain.
These are some of the biggest advantages zirconia has to offer compared to those materials.
Zirconia is exceptionally strong and will not split, crack, or chip. Zirconia dental implant crowns are three times stronger than porcelain or porcelain-fused-to-metal. Unlike porcelain, zirconia can resist the wear and tear from chewing without cracking or breaking. Zirconia is also chip-proof, which can be an issue with acrylic and porcelain crowns.
Zirconia dental implants will never warp or twist out of alignment, unlike acrylic.
Good looks. Crowns made from zirconia are naturally white and have the same translucence as natural teeth. Zirconia dental implant crowns are also resistant to staining.
Easy care. Acrylic is a porous material and allows bacteria to penetrate its surface, leading to staining. Acrylic's porous surface also allows bacteria to grow, causing bad odors. Dental implant crowns made of zirconia will never stain and only require regular brushing and flossing.
Less damaging to other teeth. Porcelain dental implant crowns can erode teeth opposite them. Zirconia dental implant crowns do not have this problem.
At America's First Dental Implant Centers, we only use titanium implant posts and zirconia crowns to deliver the highest quality dental implants.
Zirconia as the Post
Zirconia is not an ideal material for dental implant posts. When it is placed directly into the jawbone, a zirconia post can become vulnerable to cracking over time. Zirconia dental implants are also more challenging to place and are considerably less flexible than titanium implants. Zirconia implant posts are also more costly than titanium implants.
Titanium Dental Implant Posts
Dental implant posts have a tough job. They have to support the pressure and shearing forces involved in biting and chewing, which makes titanium the best material for the job. Titanium is a light, strong, durable metal used in many medical applications.
Titanium dental implant posts are not only strong and resistant to cracking and fracturing but they're also bio-friendly. Titanium resists corrosion and encourages bone tissue to fuse to the posts themselves, creating a secure, stable attachment for zirconia dental crowns.
Why Having Metal-Free Implants is Debunked
There was a time when people believed erroneously that implanted metal could potentially cause harm to the body, but this idea has been thoroughly debunked. The same titanium that is used in dental implants has been used for prosthetic joints, such as hip replacements, for decades, with no ill effects.
Titanium is a bio-friendly material. In fact, unlike many other substances which are biocompatible but inert, titanium encourages bone to integrate into prosthetic joints and implant gowns. This process of osseointegration allows titanium to become deeply and completely fused to living bone, giving a person back the strength and reliability natural bone delivers.
Zirconia / Ceramic vs Titanium Implants
Is Zirconia Better than Titanium?
When it comes to the crown and bridge (i.e., the teeth that people see when you smile), zirconia is the best material. It's far superior to other materials like acrylic and porcelain. Although acrylic is less expensive, it's also prone to warping and cracking. Acrylic is porous, which allows it to discolor easily and absorb bacteria, which causes bad odors to accumulate. Zirconia crowns have none of those problems.
When it comes to the post (i.e., the part that is embedded into your jawbone), titanium is the best material. Titanium is light, strong, has a degree of flexibility, and assists in osseointegration. Because bone tissue fuses to the titanium implant post, vibrations from chewing pass into the blood vessels and nerves of the jawbone, stimulating bone growth and preventing any further thinning of bone tissue. Of all dental restorations, only dental implants can stop bone loss in the jawbones.
And so taken together, the best dental implant is made of a titanium post (the root of the tooth) and a zirconia crown (the visible tooth).
Zirconia 4-on-1 Full Arch Dental Implants
If you're missing more than one tooth or need to replace an entire upper or lower jaw of teeth, zirconia 4-on-1 Full Arch dental implants are an ideal choice. Zirconia 4-on-1 full arch dental implants refer to a special type of dental implant – that is made up of a zirconia bridge and titanium posts – where all your teeth can be replaced in one day. Instead of needing an implant post for each missing tooth, 4 titanium implant posts are placed to support an entire dental bridge made of zirconia.
Zirconia 4-on-1 Full Arch Dental Implant Costs
The national average cost for 4-on-1 full arch dental implants typically runs from $25,000 to around $40,000 + per arch. At America's First Dental Implant Centers, our pricing is set at $14,950/arch; this is over a 40% discount from competitors. This pricing is backed by our lowest price guarantee and lifetime warranty. American's First Dental Implant Centers can offer this price because we only use oral surgeons who are using the latest technology. Our results are identical – if not better – than competitors.
What is Included in 4-on-1 Full Arch Dental Implant Costs?
Unlike many of our competitors, at America's First Dental Implant Centers, our 4-on-1 full arch costs and pricing are all-inclusive, including:
All appointments and meetings (initial consultation, surgery, post-operative checkup)
All imaging needed (e.g., CT scan, X-ray)
Surgery to extract any remaining teeth and place dental implants into the jawbone
IV sedation anesthesia
Temporary teeth used during recovery and healing
Custom crafted and fitted permanent zirconia teeth made to fit your mouth, as well as all other materials used in the process.
Why Choose 4-on-1 Full Arch Zirconia Dental Implants?
The 4-on-1 Full Arch dental implant is ideal for situations in which a person is missing several teeth or an entire arch of teeth. It's less expensive and less invasive than replacing each missing tooth with single implants. Consider that nationally a single implant costs from $3,000 to $6,000, while you can get an entire arch of 4-on-1 full arch zirconia dental implants for $14,950 at America's First Dental Implant Centers.
Individual Implant: $3,000 – $6,000 per tooth (nationally)
4-on-1 Full Arch (replace an entire row of teeth):

$25,000 – $40,000+ /arch nationally
$14,950/arch at our office
Zirconia Implant FAQs
1. How long do zirconia implants last?
Zirconia dental crowns and bridges are highly durable, resistant to cracking and breaking, and will last a lifetime. When used as a dental implant post, zirconia has a limited lifetime due to breakage. As mentioned earlier, the best combination of materials for dental implants is a titanium post with zirconia teeth (crown/bridge).
2. Do zirconia implants cost more?
Crowns made from zirconia are more expensive than dental implant crowns made of acrylic or porcelain. The initial extra cost for zirconia implant crowns is offset by their long endurance. With zirconia dental implants, you won't need to have repairs or expensive replacements over the years.
(As mentioned earlier, there are very few offices offering zirconia posts since titanium posts are far superior and will not crack, break, or corrode.)
3. Do Zirconia Dental Implants Require Periodic Replacement?
No, dental implants with zirconia bridge/crown are permanently placed into a person's mouth and will not require replacement. That's unlike acrylic dental crowns and bridges, which are prone to becoming stained and will warp and split over time, while porcelain crowns can be brittle, leading to chipping or shattering.
4. Do zirconia implant crowns break easily?
No, zirconia dental crowns are extremely strong and highly resistant to chipping, cracking, and breaking. Of all materials used in making dental implant crowns, zirconia is the strongest and most resilient. Zirconia dental implant crowns placed onto titanium implant posts are the most durable, most natural, and longest-lasting replacement for missing teeth available today.
5. Is zirconia metal-free?
Zirconia is a non-metallic ceramic substance that is made from the mineral zirconium dioxide. It starts out as a white powder that is formed into solid blocks that can then be custom-shaped into crowns.
6. Are zirconia teeth hard to care for?
Zirconia teeth are easy to care for, requiring no special hygiene routine other than brushing, flossing, and regular checkups.